---
            SUPPORT HEALTHY NEIGHBORHOODS ON 
                            GIVING TUESDAY
                         donate now
Partnership for a Healthy Lincoln, through Streets Alive! is making our community healthier.  With your gift to us on Giving Tuesday, you help make Lincoln healthier, one neighborhood at a time.  Learn more about our community development project.
                                            
---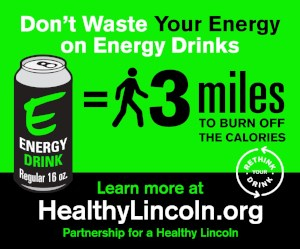 RETHINK THAT ENERGY DRINK
Did you know that energy drinks can be a waste of your energy?  Regular energy drinks are full of sugar.  A 16 oz. can has almost as many calories as a 20 oz. regular soda.  And that burst of energy?  You'll be heading for a crash later.  Worse, a recent trend to mix energy drinks with alcohol can be very dangerous.  Learn more about energy drinks.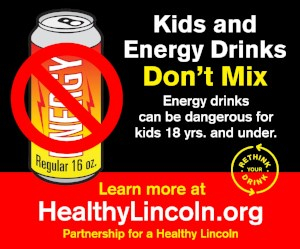 KIDS AND ENERGY DRINKS  - 
NOT A GOOD COMBINATION
Did you know energy drinks can be dangerous for kids 18 years old and younger? Consumption of energy drinks by young children and over-consumption by teens has been linked to heart attacks, seizures, and even death. Pediatricians say energy drinks have "no place" in the diets of children.  Learn more about energy drinks and kids.
---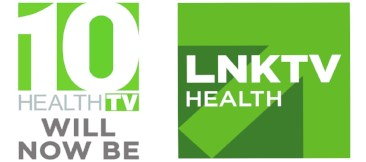 LNKTV Health Features PHL
and Partners Monthly -  meet our partners
Each month, LNKTV Health's TV's Shape of the City program features community health projects funded by the recent $2M Partnership to Improve Community Health grant from the Centers for Disease Control (CDC) awarded to Partnership for a Healthy Lincoln and partners.  Watch the latest segments here: 
NOVEMBER 2017
The first segment of this Shape of the City episode, features Feet First, a program through Lincoln Parks and Recreation's, F Street Center using running to improve both physical and mental health in the community. 
 
In the second segment, Indigo Bridge Books talks about some of their upcoming events, encouraging both literacy and health, including an IndiExplore family read and cook program on November 10, cohosted by Partnership for a Healthy Lincoln.  
  
In the final segment, Community Action Partnership gives viewers tips on signing up for the Health Insurance Marketplace during open enrollment.
LNKTV Health features inspiring work done by community organizations across the city called "Bright Spots"  Find more Bright Spots.
"We Cook" Bright Spot
A collaboration between Partnership for a Healthy Lincoln, the Community Learning Centers, and the UNL Extension Division is making an impact on the health of kids and their families with a program called WeCook at three schools.  WeCook is an interactive and hands-on approach teaching cooking skills to youth that promotes making healthy snack choices and preparing healthy meals.  WeCook also incorporates fun fitness activities from SPARK, a measurable program that utilizes sports, play, and active recreation for kids to increase physical activity, to compliment the cooking classes. 
---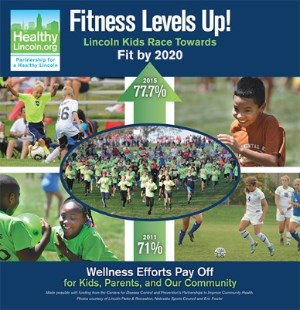 Fitness Levels UP!
The Lincoln Journal Star 2016 Community Update (pictured here), features the yearlong efforts of Partnership for a Healthy Lincoln and all our partners to improve the health of our community, and moving towards our goal of FIT BY 2020.  READ MORE
View or download the Lincoln Journal Star 2016 Community Update
---

Foundation singles out city, Partnership for a Healthy Lincoln, LPS Wellness Program, LLCHD, WorkWell
The Robert Wood Johnson Foundation (RWJF), America's largest philanthropy devoted solely to the public's health, has recognized the city of Lincoln, the work of Partnership for a Healthy Lincoln and our partners, WorkWell, Lincoln Lancaster County Health Department, and the LPS Wellness Program, for progress made locally in addressing the nationwide obesity epidemic.  The foundation recently committed $500M over ten years to target childhood obesity across the country, bringing their investment total since 2007 to $1B to reverse childhood obesity rates. Read their article about Lincoln.
---
| | | |
| --- | --- | --- |
| A multiyear collaboration between community non-profits and Lincoln Public Schools is lowering obesity and improving the physical fitness of Lincoln's school children! Read more..... | Sugar sweetened beverages are the number one source of excess calories leading to overweight and obesity. Learn more about what beverages you should choose… | PHL is offering Mini-Grant funds for variety of health and physical activity based projects and programs with the CLC setting. Click on the link above to download an application. |