We Did It!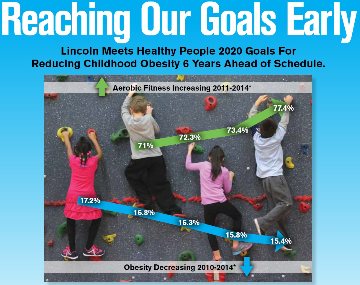 Community Update
                     LPS Kids More Fit,
                   at Healthier Weights
The numbers are in.  Obesity rates are down and fitness levels are up!  We've reached the Healthy People 2020 goal of reducing obesity rates in school children 6 years ahead of schedule.
Read about the combined efforts of Partnership for a Healthy Lincoln, the LPS Wellness Program, and our coalition of partners who are working together to help our children live longer, healthier lives.  View or download the Community Update here.
---
PHL, LPS Interviewed on Healthy Everyday, 10/11
Watch It Now!
Dr. Bob Rauner, Director, Partnership for a Healthy Lincoln (PHL), Michelle Welch, LPS District Wellness Coordinator, and Marybell Avery, LPS Curriculum Specialist, Health and Physical Education were intereviewed recently on Healthy Everyday (Lincoln's CBS 10/11 station) about the success of the efforts by PHL, LPS, and our coalition of partners to reduce obesity rates and increase fitness levels in LPS schoolchildren; and being nationally recognized by the Robert Wood Johnson Foundation.
---
10 Health TV Features PHL and Partners Monthly -  meet our partners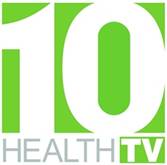 Each month,10 Health TV's Shape of the City program features community health projects funded by the recent $2M Partnership to Improve Community Health grant from the Centers for Disease Control (CDC) awarded to Partnership for a Healthy Lincoln and partners.  Watch the latest segments here: 
June 2015
Health Matters with Larry Williams, Malone Center and Dr. Bob Rauner, Partnership for a Healthy Lincoln
Discussion on minority health issues, prevalence of diabetes and obesity
April 2015
Lincoln Lancaster County Health Dept., Lincoln Parks and Rec., Salvation Army, AmeriCrops
LLCHD, Lincoln Parks and Rec., and Salvation army talk about their summer food and fitness programs for youth; how to start a vegetable garden
March 2015
Community Health Endowment, Lincoln Public Schools, Let's Move LIncoln!
Community Conversations series, school breakfast program, school kids on the move
---
Robert Wood Johnson Foundation Cites Work of PHL, Partners
Foundation singles out city, Partnership for a Healthy Lincoln, LPS Wellness Program, LLCHD, WorkWell
The Robert Wood Johnson Foundation (RWJF), America's largest philanthropy devoted solely to the public's health, has recognized the city of Lincoln, the work of Partnership for a Healthy Lincoln and our partners, WorkWell, Lincoln Lancaster County Health Department, and the LPS Wellness Program, for progress made locally in addressing the nationwide obesity epidemic.  The foundation recently committed $500M over ten years to target childhood obesity across the country, bringing their investment total since 2007 to $1B to reverse childhood obesity rates. Read their article about Lincoln.
---
A multiyear collaboration between community non-profits and Lincoln Public Schools is lowering obesity and improving the physical fitness of Lincoln's school children! Read more.....

Sugar sweetened beverages are the number one source of excess calories leading to overweight and obesity. Learn more about what beverages you should choose…

PHL is offering Mini-Grant funds for variety of health and physical activity based projects and programs with the CLC setting. To learn more about the Mini-Grant request for proposals click here.