GET READY FOR STREETS ALIVE!
Streets Alive!, Lincoln Calling Music Festivals Share Music, Focus on Wellness
New Belmont Community Development Project Showcased; Fun Run/Dog Walked Added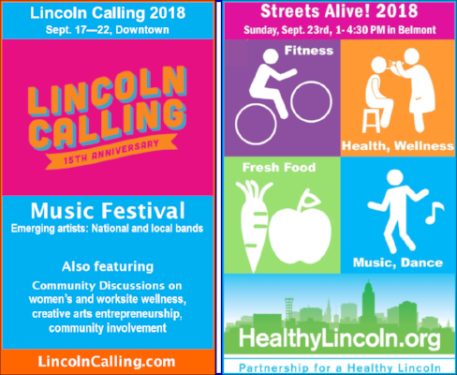 Streets Alive!, our outdoor movement festival is back on September 23, from 1 - 4:30PM!  Hosted again this year in Belmont, our FREE outreach event stretched over nearly 2 miles of traffic-free streets is again filled with health resources, join-in fitness classes, fresh produce, music, dance, art, and kids activities. New  this year, a fun run/dog walk over the Streets Alive! route will host kids, adults, and dogs, from 12:30 - 1:00 PM, before the festival kicks off.  We'll also showcase the new Streets Alive!/Belmont Community Project, an outdoor living and learning center in the Belmont Park at the festival.  The project broke ground on August 10, 2018.
What else is new? Lincoln Calling, the 5 day (Sept. 19-22) downtown music festival that celebrates local and national emerging musicians and artists is spilling over into Streets Alive! Some of Lincoln Calling's musicians will also grace the stages at Streets Alive!  This year, Lincoln Calling has expanded their music festival to include  arts and innovation and panel discussions with national and local experts in the fields of workplace wellness, women's health and creative arts entrepreneurship.  Partnership for a Healthy Lincoln President, Dr. Bob Rauner, will be one of the panelists.  Check out Lincoln Calling and then join us at Streets Alive! 
DOWNLOAD AN ENTERTAINMENT SCHEDULE       
DOWNLOAD AN EVENT SCHEDULE WITH EXHIBITOR MAP
---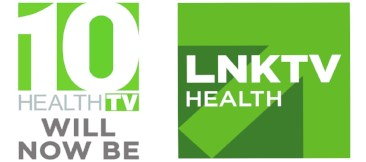 LNKTV Health Features PHL
and Partners Monthly -  meet our partners
Each month, LNKTV Health's TV's Shape of the City program features community organizations that are making a difference in our community. Shape of the City in the Kitchen features great nutrition information and tips to make healthy eating easier.  LNKTV's Health Get Up and Go Series features unique and fun ways to be active and Bright Sports featuring inspiring work done by local nonprofits to improve community health.  Watch the latest Shape of the City below and visit LNKTV Health for everything health, wellness, safety, and fitness in our community: 
SEPTEMBER 2018 - view the whole episode
In the first segment, Lutheran Family Services talks about the growth of their service offerings to the medically underserved in our community.
The second segment features the upcoming Lincoln Calling creative arts and wellness festival and their collaboration with this year's Streets Alive!
The third segment, features the new and returning fun, fitness, entertainment, and resources at the Streets Alive! outdoor movement festival.
Find an LNKTV Health program schedule, live streaming and video-on-demand options at this link.
Bright Spots: "We Cook" Helps Kids 
LNKTV Health highlights community programs that help make a difference in our city.  In this Bright Spot about the WeCook program, kids havie fun while learning the kinds of nutrition and fitness activities that will make them healthy for life.  WeCook promotes physical fitness and teaches at-risk youth and their families how to cook simple, healthy foods and learn more about gardening. 
---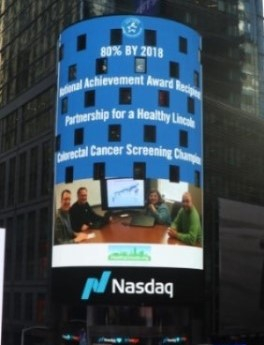 Partnership for a Healthy Lincoln Wins
National Cancer Screening Award
Feb. 27, 2018 – The National Colorectal Cancer Roundtable (NCCRT), an organization co-founded by the American Cancer Society and the Centers for Disease Control and Prevention, honored Partnership for a Healthy Lincoln with a national achievement award recognizing community leadership in the ongoing effort to save lives through early detection of colorectal cancer.
One of seven honorees nationwide, Partnership for a Healthy Lincoln received the 80% by 2018 National Achievement Award in the community category for leading the Nebraska Physicians Cancer Screening Project.  The award recognizes individuals and organizations who dedicate their time, talent and expertise to advancing needed initiatives to reach the national goal of regularly screening 80% of adults age 50 or over for colorectal cancer. Learn more.  Find colon cancer info, resource links.
---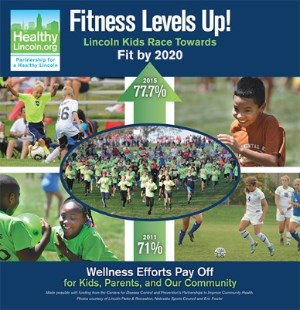 Fitness Levels UP!
The Lincoln Journal Star 2016 Community Update (pictured here), features the yearlong efforts of Partnership for a Healthy Lincoln and all our partners to improve the health of our community, and moving towards our goal of FIT BY 2020.  READ MORE
Partnerships Make a Collective Impact
Partnership for a Healthy Lincoln collaborates with non-profits across the city to improve the wellness of our community. Throughout the year, we feature the work our partners do to impact the health and fitness of our city.  Each month we spotlight the current highlights and happenings of featured partners.  
September 2018 highlight:  MilkWorks                Read past highlights here.
---

Foundation singles out city, Partnership for a Healthy Lincoln, LPS Wellness Program, LLCHD, WorkWell
The Robert Wood Johnson Foundation (RWJF), America's largest philanthropy devoted solely to the public's health, has recognized the city of Lincoln, the work of Partnership for a Healthy Lincoln and our partners, WorkWell, Lincoln Lancaster County Health Department, and the LPS Wellness Program, for progress made locally in addressing the nationwide obesity epidemic.  The foundation recently committed $500M over ten years to target childhood obesity across the country, bringing their investment total since 2007 to $1B to reverse childhood obesity rates. Read their article about Lincoln.
---
| | | |
| --- | --- | --- |
| A multiyear collaboration between community non-profits and Lincoln Public Schools is lowering obesity and improving the physical fitness of Lincoln's school children! Read more..... | Sugar sweetened beverages are the number one source of excess calories leading to overweight and obesity. Learn more about what beverages you should choose… | PHL is offering Mini-Grant funds for variety of health and physical activity based projects and programs with the CLC setting. Click on the link above to download an application. |