---
Nebraska Physicians Cancer Screening Initiative
With support from the Lancaster County Medical Society, Partnership for a Healthy Lincoln is coordinating a physician-led initiative, the Nebraska Physicians Cancer Screening Project, to bring additional public awareness to the importance of health screening. 
The cancer screening initiative will work to save lives through early detection of breast and colon cancers. The project is in alignment with the American Cancer Society and University of Nebraska Medical Center College of Public Health target of increasing the number of Nebraskans who are adequately screened for these cancers to "80% by 2018".  Read more.
---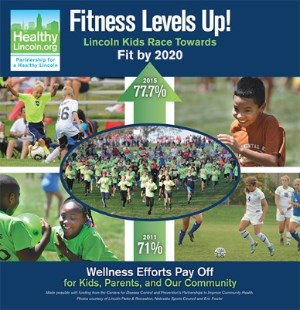 Fitness Levels UP!
Research now shows that being aerobically fit is even more important to the overall health of both kids and adults.  An added benefit of aerobic fitness for kids is not only improved health, but also improved academic performance and behavioral health.
With the Lincoln Public Schools, we and several of our partners continue to work jointly on projects specifically to improve the health of Lincoln's school age children.  Due to these efforts, LPS students have improved their fitness rates every year since 2011, with this year's data showing yet another increase. 
The Lincoln Journal Star 2016 Community Update (pictured here), features the yearlong efforts of Partnership for a Healthy Lincoln and all our partners to improve the health of our community, and moving towards our goal of FIT BY 2020.  READ MORE
View or download the Lincoln Journal Star 2016 Community Update
---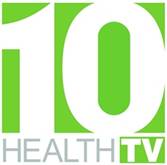 10 Health TV Features PHL and Partners Monthly -  meet our partners
 
Each month,10 Health TV's Shape of the City program features community health projects funded by the recent $2M Partnership to Improve Community Health grant from the Centers for Disease Control (CDC) awarded to Partnership for a Healthy Lincoln and partners.  Watch the latest segments here: 
January 2017
Salvation Army and LPD; Community Blood Bank; Aging Partners
The Salvation Army and the Lincoln Police Dept. talk about the "Shields Unite" program: the Community Blood Bank talks about the lifesaving importance of donating blood; Aging Partners talks about walking safely in the winter months.
December 2016
LFD and Safe Kids; Prosper Lincoln; Partnership for a Healthy Lincoln
The Lincoln Fire Dept. and Safe Kids Lincoln/Lancaster Cnty offer winter safety tips; Prosper Lincoln talks early childhood efforts; and Partnership for a Healthy Lincoln offers tips for staying healthy and active over the winter months.
November 2016
Boys & Girls Club; Tabitha Health; UN/L Extension Division
The Boys & Girls Club talk about their programming and community partnerships; Tabitha talks about its eldercare services and programs; UN/L Extension Division talks about holiday eating and preventing holiday weight gain.
---

Foundation singles out city, Partnership for a Healthy Lincoln, LPS Wellness Program, LLCHD, WorkWell
The Robert Wood Johnson Foundation (RWJF), America's largest philanthropy devoted solely to the public's health, has recognized the city of Lincoln, the work of Partnership for a Healthy Lincoln and our partners, WorkWell, Lincoln Lancaster County Health Department, and the LPS Wellness Program, for progress made locally in addressing the nationwide obesity epidemic.  The foundation recently committed $500M over ten years to target childhood obesity across the country, bringing their investment total since 2007 to $1B to reverse childhood obesity rates. Read their article about Lincoln.
---
A multiyear collaboration between community non-profits and Lincoln Public Schools is lowering obesity and improving the physical fitness of Lincoln's school children! Read more.....

Sugar sweetened beverages are the number one source of excess calories leading to overweight and obesity. Learn more about what beverages you should choose…

PHL is offering Mini-Grant funds for variety of health and physical activity based projects and programs with the CLC setting. To learn more about the Mini-Grant request for proposals click here.