Streets Alive!
Fun Run/Dog Walk Kicks Off 2018 Streets Alive!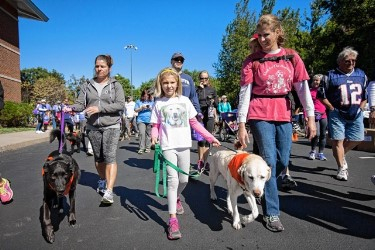 What better way to kick off an outdoor movement festival than to, well, really get moving outdoors from the get-go?  Streets Alive! our annual celebration of active living, good nutrition, and wellness that offers fun, fitness, food, and free health resources, precedes the festival with a "running start".
Route, Parking, Start Times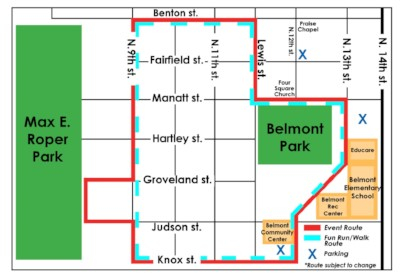 The Fun Run will start promptly at 12:30 PM and follow the Streets Alive! 1.5 mile festival route, kicking off at Belmont Park.  Adults and kids of all ages and abilities are invited to run, walk, or propel a wheelchair over the run course.  Streets Alive! is dog friendly and so, of course, we invite you to walk your dog over the route, if you prefer.  The Dog Walk starts at 12:35 PM, directly after the Fun Run begins.  Please be considerate of others and clean up after your puppy.  The Streets Alive! festival begins at 1 PM.
Participants are invited to walk or cycle to the race, but parking is available at several close locations.  Visit our FAQ page for a list of parking options and street closures.
Registration 
As part of their Health 20/20 project, the Community Health Endowment of Lincoln (CHE) is celebrating 20 years of funding community health projects in Lincoln by sponsoring 20 wellness events through the year. Thanks to the generosity of CHE, the first 150 kids to sign up for the fun run or dog walk, will have their $10 entry fee waived. 
In honor of the Belmont Neighborhood hosting Streets Alive!, OneHealth Nebraska is sponsoring the Community Learning Center running club in Belmont, generously covering the $10 entry fees for running club members.  If you'd like to sponsor a children's running club or other group of children, contact us for more information.
The entry fee for adults and kids who sign up after the 150 free slots are filled is $10 per person.  Parents must accompany children under 6 years.  All participants will receive a Streets Alive! Fun Run/Dog Walk tee shirt.  SIGN UP NOW.