Monthly Partner Highlight
Woods Tennis Center Celebrates New Indoor Facility
Long Term Home Will Allow Continued Community Outreach
Woods Tennis Center celebrated the Grand Opening of their new 6 court indoor facility on May 17, 2017.  The success was made possible by a partnership of Friends of Woods Tennis, City of Lincoln Parks & Recreation, and Lincoln Parks Foundation, along with over 460 donors making this a true community project. Construction consisted of a new permanent indoor facility with 6 courts and will eventually lead to an increase in the number of outdoor courts available from 9 to 12 once the bubbles have been removed.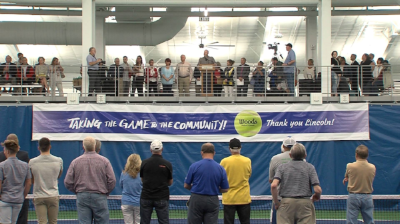 The construction team continues to finish details on the new facility and will also be working on renovating the plaza space located between the tennis facility and Woods Park Pool.  This project will allow the Friends of Woods Tennis to continue operating on a long-term basis, providing tennis lessons and fitness play opportunities not only on site but also across the entire community. The Friends of Woods Tennis and City of Lincoln would like to thank donors from both inside and outside the tennis community who came together to support our campaign and vision of providing a lifetime fitness opportunity for our city. 
Summer Programming-Taking the Game to the Community
This summer Woods Tennis Center is once again providing tennis lessons at 17 sites across the city to over 1,200 children.  29% of participants are minority and 36% qualify for free and reduced lunch programming.  In the past 9 years Woods has been able to give out over 3,500 racquets to Lincoln children. We continue to look for ways to introduce members of the Lincoln community to this lifetime sport and to grow the popularity of this healthy sport. Visit our website at for more information about Woods Tennis Center and our programming. 
Partner With Us
Woods Tennis Center continues to look for new partners to provide programming across the community.  If your community based organization is interested in working with us, please email Executive Director Kevin Heim or call him at (402)441-7095.