Partners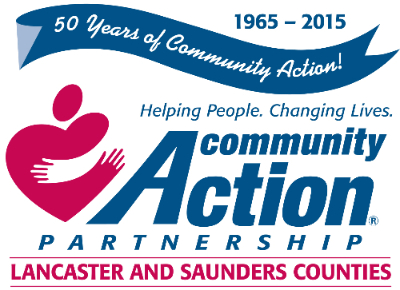 Celebrating its 50th anniversary in 2015, Community Action Partnership of Lancaster and Saunders Counties is a private, non-profit organization with a mission to empower people living in poverty to reach economic stability.
There are over 44,000 people in Lancaster and Saunders Counties who live in poverty. Community Action offers 16 distinct programs designed to ensure that everyone – regardless of their economic situation – has the opportunity to thrive. We also work to help our families develop good nutrition and fitness habits to support long term good health.
Programs:
Head Start | Early Head Start | Rent, Utility, and Deposit Assistance | The Gathering Place | Homeless Voucher Program | Supportive Housing Program | Representative Payee Program | Matched Savings Accounts | Money Management Education | GED Instruction | Health Insurance Enrollment | Affordable Housing | Weatherization | Tenant Support Services | Tax Preparations Services | LanguageLinc Translation and Interpretation Services | Education and Career Advancement Training  
For more about our programs and mission, visit our website.