Healthy Schools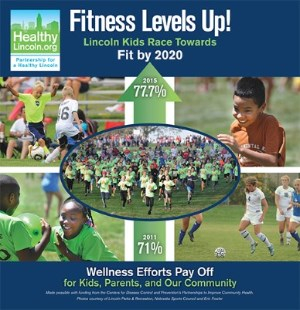 2016 Lincoln Journal Star Community Update now available!
We love this opportunity to highlight the work of our coalition to improve the health, wellness, and fitness in our community! Click to view or download this years' community update.
 
Obesity & Fitness Improving in LPS!
Good news in Lincoln Public Schools was reported to the Board of Education April 2016. Obesity and fitness in kindergarten through eighth grade students has improved for the fifth year in a row. Dr. Bob Rauner, Partnership for a Healthy Lincoln and Michelle Welch, Lincoln Public Schools Wellness Coordinator, presented the newest data that obesity has decreased from 17.2% in the 2010-2011 school year to 15.4% in the 2014-2015 school year, with fitness levels improving from 71% in the 2011 - 2012 year to 77.4% of LPS students in the 4-8th grades now passing the Fitnessgram, the official test of the Presidential Youth Fitness Program.
In The News
Fit by 2020, Community Partnership Ahead of Health Goals, Keeps Moving Forward -- Lincoln Journal Star, April 2015
Cheers for Fitness Program -- Lincoln Journal Star, May 2015
Our studies in the Lincoln Public School system on fitness and academic performance have been published in leading medical journals and cited by newspapers across the country like The Washington Post and The New York Times.