Streets Alive!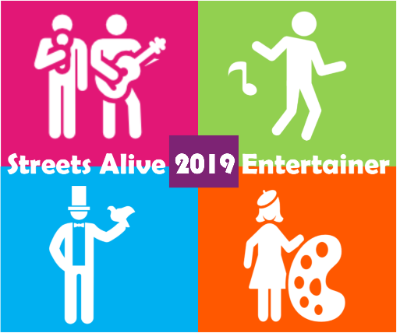 Entertaining at Streets Alive! 
Streets Alive! boasts a variety of great entertainment - music, dance, magic, balloon art, puppet shows ... just to name a few!
Performing at Streets Alive! is an opportunity to be a visible part of a free event open to the entire community of Lincoln.  Over the years, our attendance has grown to an average of 4,000 including more than 100 exhibitors and entertainers. Our 2018 event saw nearly 5,000 participants.  The 2019 Streets Alive! festival will be hosted by the South Salt Creek/Cooper Park neighborhood, just south of downtown. We are partnering with the downtown Lincoln Calling Music Fest and the Lincoln Arts Show to promote each other's festivals and encourage people to attend all these fun events over the extended weekend, making your visibility even greater.  Contact us for more information      or     SIGN UP NOW.
Entertainer/Performer
We move the festival around the city every two years, giving the entertainers the opportunity to perform for new audiences with each move. We cordon off nearly 2 miles of streets blocked off from traffic so visitors can walk, stroll, skate, bike - any kind of human powered travel along the festival route.  We have both street artists and stage artists located through out the route.
Promote Yourself
Bring people to you and let people know you will be Streets Alive! Closer to the 2019 festival, you will be able to download promotional and social media badges.
Route Maps, When to Arrive
Entertainers will have 15 minutes before their performance and 15 minutes after their performance to set up and take down. The stages will be ready, so both should be minimal. Help will be available at volunteer information booths if you need assistance loading and unloading. 
Where to Park
The streets following the route will be closed to traffic and parking the day of the event. In order to accommodate everyone in the area on the day of the event, there will be a variety of parking lots available in the vicinity of the route.  Parking location and closed streets information for the 2019 festival will be listed on our FAQ page closer to the event.
Rules
BE SAFE - Streets are closed but participants should watch for vehicles, children, pets and other normal hazards. Streets Alive! is not held liable for participants' failure to be watchful. No weapons. No smoking.
BE RESPONSIBLE - Take care on the streets and sidewalks; watch for others. Dispose of litter and pet waste in responsible ways.
BE RESPECTFUL - Use family-friendly language; be considerate of others.
BE GREEN - Please recycle in the bins along the route.