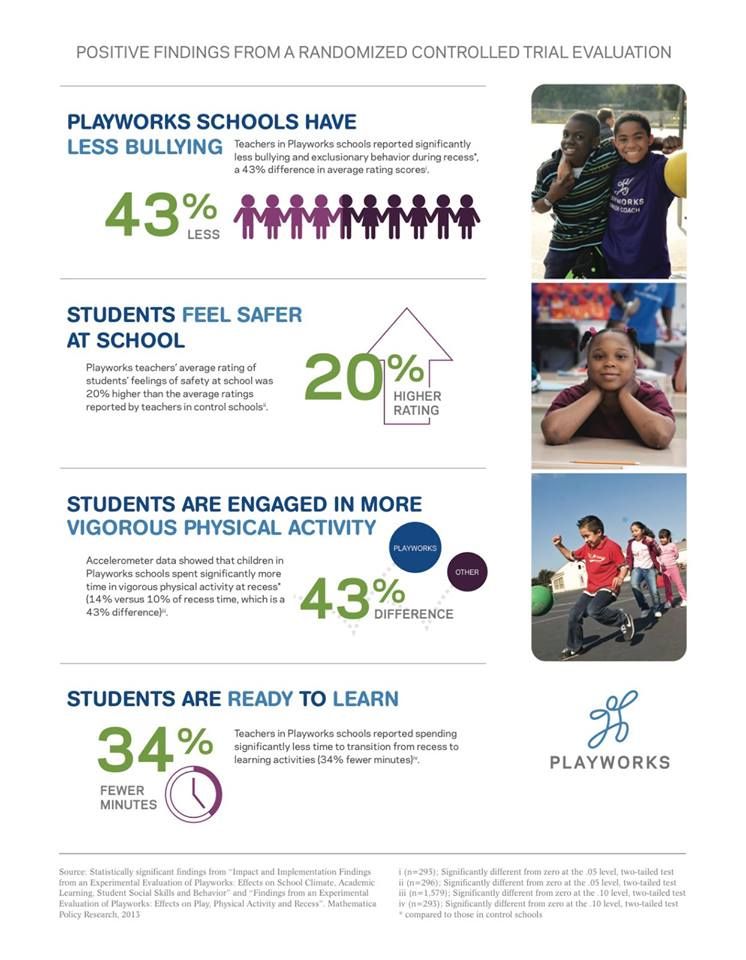 SARAH GOODYEAR
MAY 16, 2013
There is nothing fancy about the schoolyard at P.S. 309 in the Bedford-Stuyvesant neighborhood of Brooklyn. It's just a few hundred square feet of bare asphalt bounded by a chain link fence, with a couple of basketball hoops and some lines painted on the ground.
A young woman named Tashawnee Guarriello is busy getting the yard ready for recess, which is going to start any moment. She draws a chalk circle in one area, puts some hula hoops down in another, sets up a few plastic cones and gets out several balls. This simple assortment of equipment— along with a loud whistle, her voice, and a staggering amount of energy and good cheer — are
all that she will use to lead hundreds of elementary school students in play over the next two hours.
Guarriello, who is known to the kids of P.S. 309 as Coach G, is one of hundreds of coaches working in schools around the country as part of Playworks.
Founded in 1996 by educator Jill Vialet, the program is designed to make recess a happy, productive part of the school day in low-income inner-city schools.
Vialet, who is 48, came up with the idea when she was working in San Francisco Bay Area schools where she observed that recess wasn't what she remembered from her childhood years. Kids were fighting and being excluded, and they didn't seem to be having much fun. "The play really looked different from what I remembered," says Vialet. "I have a really high tolerance for
chaos, but there is good chaos and bad chaos, and this chaos made me uneasy. It made the kids uneasy, too. I was thinking on
an empathic level, if I was a kid, I wouldn't want it to be like this."
School administrators told her that the upset resulting from recess often spilled over into the rest of the school day, taking time away from instruction and making it harder for kids to learn.
So Vialet started to develop a simple play program focused on a few structured games and on building the social skills of kids who came from tough neighborhoods, sometimes from families where stability was not a given. Full-time paid coaches help to create an environment where sharing and cooperation are the highest values, rather than winning, and where bullying is not tolerated. Students from the older grades are enlisted as "junior coaches," gaining leadership experience and modeling good behavior for their peers.
Playworks, based in Oakland, California, started small and local. But it has grown to operate in 360 schools in 22 cities, serving 70,000 students in the most recent school year and employing hundreds of coaches. Schools are selected based on student need — at least 50 percent must receive free or reduced price lunch (at P.S. 309, it's more than 85 percent). The program is dedicated to the idea that having a healthy, safe place to play at recess can make a child's school experience better throughout the day.
A recent randomized controlled study by Mathematica Policy Research and the John W. Gardner Center for Youth and Their
Communities at Stanford University backs up what principals and teachers have been observing about Playworks since its inception. A better recess does make a difference. The study reported that in Playworks schools there was less bullying, a greater feeling of safety among students, more vigorous physical activity, and less time lost transitioning from recess to classroom learning.
This kind of data is helpful when it comes to convincing schools and funders of the importance of high-quality recess, says Vialet.
"We struggle to get people to take this issue seriously," she says. "It can be hard to convince people that recess has the gravitas that merits this kind of investment. I sometimes joke that if we called ourselves 'instructional time recovery agents' it would be easier."
But more and more administrators are getting it these days. The principal at P.S. 309, Nicole Perry, says she has seen a real difference since Playworks came to her school last year. There is much less fighting than there used to be, and students are releasing their immense volumes of energy in a productive way, without getting involved in fights. "When they do go into the classroom after recess, they're not bringing that baggage with them," she says. For her, it's been a huge help in creating the kind of school environment where kids can learn and grow. "There's lots of instability in this neighborhood," Perry says. "There's a lack of community. A lot of the kids have low self-esteem. We want to be a place where kids can confide in adults in the school community and look to us for comfort and guidance."
All of the junior coaches on the playground helping Coach G tell me that recess is very different than it used to be. "People used to get hit in the face with balls and hurt," says one fifth-grade girl. "That doesn't happen anymore."
Not that there's any shortage of normal grade-school exuberance when the kids get out onto the playground. They come out in an orderly line under Coach G's guidance, but within seconds of being told they can start playing, the kids are running around screaming as loud as they can. But this is what Vialet would call a good kind of chaos.
"It allows them to relieve some of the energy that builds up during the school day," says Coach G, who grew up in Bed-Stuy herself before attending Spelman College in Atlanta. "They engage with each other in a positive way, doing what they love to do, which is play."
Everywhere you look, you see kids peacefully resolving conflicts among themselves. They settle ties with a quick game of rock, paper, scissors. The junior coaches are collecting high fives.
And no one gets left out, not even me. A junior coach sees me standing on the sidelines, comes up to me, and kindly urges me to join a game called wall ball.
I am immediately skunked by a fifth-grader who uses his best move on me. The kids won't let me get discouraged, though. "Let her try again, and don't zigzag this time," one girl says.
Then she gives me a high five.
http://www.theatlanticcities.com/neighborhoods/2013/05/why-recess-might-be-most-important-part-school/5610/