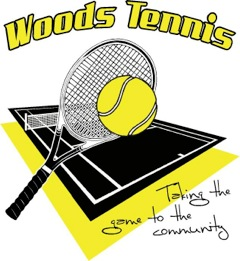 Woods Adds Indoor, Outdoor Courts
Fundraising Efforts Support Expansion,
Community Outreach
Woods Tennis Center successfully completed fundraising for the initial phase of it's capital campaign this fall, celebrating with a groundbreaking ceremony on September 16, 2016.  A partnership of Friends of Woods Tennis, City of Lincoln Parks & Recreation, and Lincoln Parks Foundation, the campaign will support construction of a new permanent indoor facility with 6 courts and increase the number of outdoor courts available from 9 to 12.  Construction should be complete late spring 2017 with the current bubble air structures being removed following.  The funds raised will allow the Friends of Woods Tennis to continue operating on a long-term basis, providing tennis lessons and fitness play opportunities not only on site but also across the entire community. Donors from both inside and outside the tennis community came together to support our campaign and vision  of providing a lifetime fitness opportunity for our city.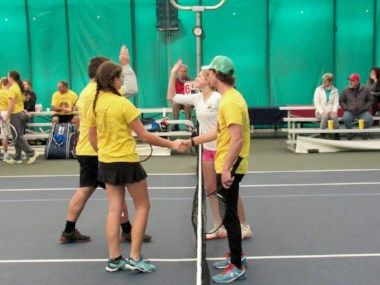 Turkey Tourney
In November,  the Friends of Woods Tennis hosted their 8th Annual Turkey Pro-Am Fundraiser.  Funding from this event is used to support community programming at sites all across Lincoln as well as providing scholarship opportunities for low-income participants and free racquets for first time players and those that cannot afford their own.  This event pairs 16 juniors with 16 adults from the community.  The juniors represent each of the Lincoln high school teams.  Adults are local teaching pros from different facilities, high school and college coaches.  Following the event a turkey feast was hosted once again with free will donation.  The turkey and side dishes were provided by local restaurants and desserts prepared by patrons.  This year the silent auction, donors and sponsors helped us to raise a record $22,000!  This support allows us to continue providing opportunities for people of all ages, incomes, ability levels, and backgrounds to participate in a lifetime sport that provides health benefits for our whole community.  This past summer Woods provided tennis lessons at 16 sites across the city to over 1,200 children.  29% of participants were minority and 36% qualified for free and reduced lunch programming.  In the past 8 years Woods has been able to give out over 3,300 racquets to Lincoln children. 
Partner With Us
Woods Tennis Center continues to look for new partners to provide programming across the community.  If your community based organization is interested in working with us, please contact Executive Director Kevin Heim at (402)441-7095.  For more information about the Woods Tennis Center, visit our website.