YMCA Membership Changes Lives - Jacki's Story
For many people, finding the right community can lead to life-enhancing changes. For the YMCA of Lincoln, members get a chance to engage with a community of like-minded people, all looking to better themselves in many different ways.
Jacki Kment and her family have been Charter Members of the Copple Family YMCA since the facility opened in 2017. Jacki had struggled with being overweight since childhood and made the decision to focus on becoming healthy for herself and her family. With obesity, diabetes, heart disease and cancer being prevalent in her family, taking the lives of both her biological mother and father, she was convicted to make significant lifestyle changes that would allow her to be around for her husband and two sons.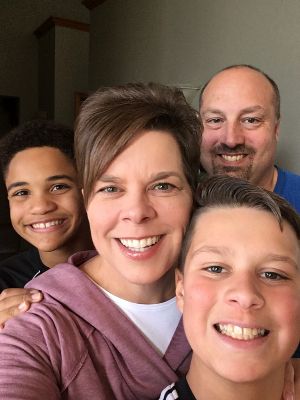 Joining the Lincoln YMCA has been encouraging for her every step of the way. One of her top love languages is 'words of affirmation' and the YMCA Front Desk personnel have been there to encourage her and have even attended a group exercise class with her when she was hesitant to try it on her own. On this journey Jacki has lost over 140 pounds through making lifestyle changes, which include an exercise program of both cardio and weight training, along with dietary modifications. Through these changes she has experienced a physical and emotional transformation.
YMCA personal trainers helped acclimate Jacki to the Y and have encouraged her along her journey. Her husband Rick saw her transformation and the whole family has jumped right in. They are Y regulars, with her son Cole who eagerly took the youth fitness training class over his Christmas break.
"The staff here have no idea what kind of impact they have on the lives of the people they come in contact with," she commented. "Everyone has an opportunity to impact someone's life in a positive way." Jacki takes that to heart because she makes it a point to get to know all of the staff and other members who work out with her before the sun rises.
Learn more about how being part of the Y community can help you achieve your goals!