Streets Alive!, Lincoln's annual outdoor festival promoting community health and wellness, has been part of the community for 10 years! Due to the Covid-19 pandemic, Streets Alive! 2020 will be a virtual event on Sunday, October 4th with live and interactive online demos, classes and community partner messages, plus a week-long neighborhood scavenger bingo game with prizes to get people out and active in a fun, safe way.  You'll find a link to the online event on this page closer to the event date (October 4).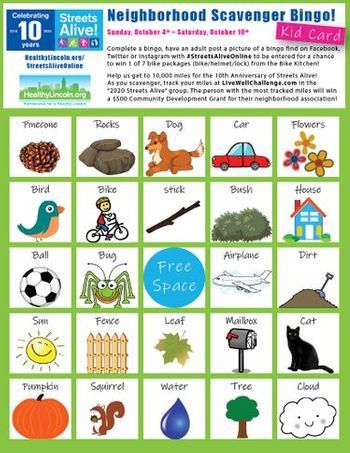 Streets Alive! Interactive Events  – Sunday, October 4th
On Sunday, October 4th, join us from 2 PM through 4:30 PM for join-in fitness classes, learn-along sports, cooking, and gardening demonstrations, wellness messages, and health resource information from our Streets Alive! Community Partners. Check the schedule here closer to the event. We will also kick-off a week-long (Oct. 4 - 10) Neighborhood Scavenger Bingo game.
 
Neighborhood Scavenger Bingo
A friendly game to get out, active and explore the uniqueness of your neighborhood! The game will take place between Sunday, October 4th – Saturday, October 10th.  You will find kid, teen and adult bingo cards, here and at the online event pages closer to the event date. Choose the bingo card that's right for you and fill it out on your phone or download to print. After you complete a bingo, post a picture of one of your finds on Facebook, Twitter or Instagram with #StreetsAliveOnline to be entered for a chance to win a a great prize! Thanks to the Lincoln Bike Kitchen, players will have a chance to win 1 of 7 bikes, each with a helmet and bike lock.
 
Let's get to 10,000 miles for the 10th Anniversary of Streets Alive!
Track your miles at LiveWellChallenge.com in the "2020 Streets Alive" group while you walk, run, bike or skate during the week of Sunday, October 4th - Saturday, October 10th. If we get to 10,000 tracked miles, Partnership for a Healthy Lincoln will award a $500 Community Development mini-grant to the neighborhood association of the person who tracked the most miles! Need some inspiration to get out and active? Use our fun Neighborhood Scavenger Bingo game to help add miles as you explore your neighborhood.
Streets Alive! Community Partners
This event would not be the same without the support of many community partners and the wellness resources they offer to the community. During the online event, visit the Streets Alive! Community Partners page where 42 Lincoln organizations will provide information and short videos about what they do and the resources they offer. 
Streets Alive! Community Sponsors 
Streets Alive! would not be possible without the financial support of our community sponsors, organizations dedicated to promoting community health and well-being.  Thanks to them, Streets Alive! has been part of a mission to make Lincoln the healthiest city in the nation for ten years.

Platinum 
Community Health Endowment
Gold       
Lincoln Journal Star
Silver     
Lincoln Bike Kitchen
LNKTV Health 
Nebraska Medical Association
Union Bank & Trust
Bronze      
CenterPointe
Cornhusker Bank
Lancaster County Medical Society
LES
NeighborWorks Lincoln
Supporter  
Lincoln Running Company
Nebraska Safety Council/WorkWell
Nebraska Association of School Boards