UPCO Park Fitness Park
Community Development Project
Improving Neighborhood Health and Vitality
Every year, Partnership for a Healthy Lincoln works to make our whole community healthier with our annual festival, Streets Alive!, a one-day event that promotes active and healthy living.  Whether Streets Alive! is outdoors or online, it's about improving community health, one neighborhood at a time because strong and healthy neighborhoods benefit everyone. But Streets Alive! is more than a one-day festival. We work with the medically underserved neighborhoods who host Streets Alive! to help increase access to safe physical activity opportunities.
Partnership for a Healthy Lincoln, through Streets Alive!, teams up with the host neighborhood, Lincoln Parks and Recreation, community organizations, and other sponsors to have a lasting positive impact that improves the safety, walkability, and health of the host neighborhood through a community development project or program.

Streets Alive/UPCO Park Community Development Project
University Place, co-host of Streets Alive! in 2022 and 2023, is one of the oldest neighborhoods in the city.  In collaboration with the University Place Community Organization, Lincoln Parks & Recreation, and neighborhood stakeholders, Partnership for a Healthy Lincoln identified a project that would improve the health of University Place residents through providing additional access to safe physical activity opportunities within the neighborhood hub, UPCO Park. The project funded a free outdoor activity center with fitness equipment and free fitness classes, suitable for all ages and ability levels, serving children, families, seniors, and those who are physically challenged.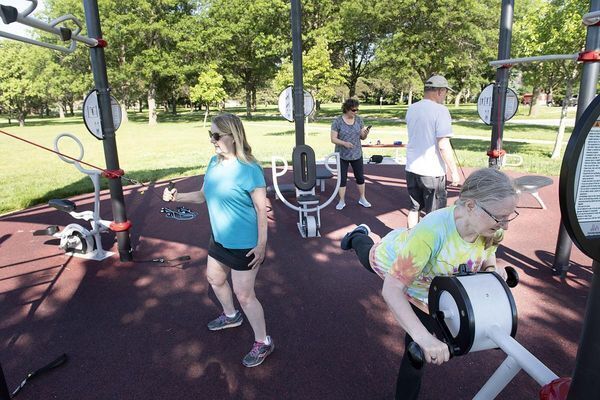 UPCO Park Project Sponsorship
Sponsorships for the UPCO Park project are now closed, but your business or organization can be part of making our neighborhoods strong and healthy!  You can sponsor or raise funds for future Streets Alive! Community Development Projects that will benefit not only the host neighborhood but add to the beauty, safety, and well-being of our whole city.  You can help fund the project by organizing events or sponsoring all or an individual part of a project.
For more information or to get started, contact Partnership for a Healthy Lincoln at info@healthylincoln.org or donate here.
---
Sponsors   
We have been fortunate to partner to Lincoln Parks and Recreation, the Lincoln Parks Foundation, and our host neighborhoods on project ideas that will improve neighborhood walkability and vitality.  Their generous support and community sponsors like the Nebraska Presbyterian Foundation, Ameritas, Black Hill Energy, and Bison, Inc. who believe in investing in the health of our neighborhoods, are critical in bringing these projects to fruition.