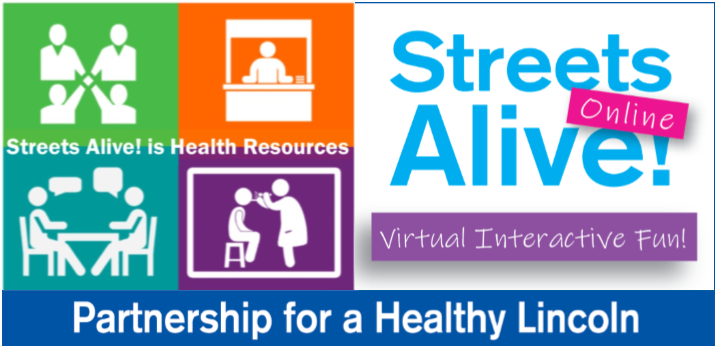 Community Resource Page
When Streets Alive! Moves Online
Traditionally, Lincoln's Streets Alive! is an outdoor wellness festival, held annually. When community health or weather circumstances prevent an outdoor event, we move the festival online, as we did in 2020.  View the 2020 event. The 2021 festival is currently scheduled to be an outdoor event on September 26th in the South Salt Creek/Cooper Park neighborhood. Organizations interested in exhibiting at the 2021 outdoor event can find information here.
What Happens at the Online Event?
Whether we take Streets Alive! into the streets or onto a screen, Streets Alive! engages our community in an interactive celebration of health and wellness, providing join-in fitness and cooking classes, learn-along sports demonstrations, as well as support, education and community health and safety resources.  Our 2020 event had hundreds of page visits, and thousands of video views. 
Sign Up to Be A Community Resources Partner
Because we record the event as it happens and also use pre-recorded video, the event is available for the community to enjoy year-round, offering an additional opportunity for your non-profit organization to provide information and support, long after the Streets Alive! Online festival is over.  Our Community Resource page can explain your mission, provide links to services and support, and include downloadable fliers and informational videos.  See our 2020 Online Community Resource Page.    If Streets Alive! moves online again, you will be able to sign up on this page.