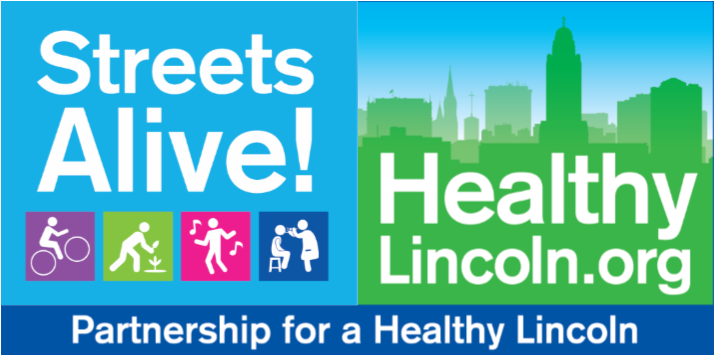 What Is Streets Alive! Outdoors?
Movement Fun and More
Streets Alive! is a movement festival celebrated in cities across America and the world that cordons off a section of a city to let people literally play in the streets.
Partnership for a Healthy Lincoln brought the Streets Alive! concept to Lincoln starting in 2010 as an annual event. Streets Alive! is a FREE community festival that promotes active living and healthy nutrition in a fun and interactive way.   Weather and community health circumstances permitting, Streets Alive! is an outdoor event. Streets Alive! 2023 was on Sunday, September 24, hosted by the University Place neighborhood.  Watch the video to see what happened at Streets Alive! 2023!
---
The Streets Alive! outdoor festival is mobile, moving to a different neighborhood every two years.  The event showcases the host neighborhood with a nearly 2-mile traffic free festival route which often includes parks, walking and biking trails, community gardens, and other areas of interest. Streets Alive! makes health, wellness, and fitness resources easily accessible to the host neighborhood and the thousands of visitors from across the city who attend each year.
Streets Alive! is typically an outdoor festival. To protect community health, Streets Alive! 2020 was an online festival, that you can visit any time! 
Neighborhood Impact
To leave a further impact on the neighborhoods that host the festival, we collaborate with the neighborhood associations, residents, schools, businesses, faith communities and organizations to identify a community project or program to implement in coordination with Streets Alive! that improves neighborhood health, safety and vitality.  Learn more about community development projects.  See the 2017-2018 Belmont Neighborhood Project.  See the 2019- 2021 South Salt Creek Neighborhood Project.  Learn about our 2022-2023 UPCO Park Project.
Health Precautions
When we hold the festival outdoors, we want everyone to enjoy their Streets Alive! experience and feel safe.  If conditions warrant, we institute precautions like masking and distancing to protect community health.
Traffic Free, People and Pet Friendly
Streets Alive! encourages people to get off the couch, go outdoors and move up and down a stretch of city blocked off from traffic.  Streets Alive! is a child, dog, and wheelchair friendly event.  Visitors can bike, skate, walk, stroll, wheel (any kind of human powered traffic), or even dance their way down a route filled with exhibitors and entertainers.  Learn About the History of Streets Alive! Festivals.     Visit out FAQ (frequently asked questions) page.
Exhibitions and Food
Streets Alive! provides an opportunity for Lincolnites of all ages, backgrounds, and abilities to access free and useful information. Lincoln Streets Alive! festivals have included 100's of diverse exhibitors that provide a wide variety health, wellness, fitness, support, and care resources and information in an interactive and engaging way that has included games, contests, and giveaways. You'll also find tasty and healthy food and fresh produce. 
Performers, Join-in Fitness, Sports Demonstrations
You won't need to play games on your smart phone to be amused at Streets Alive!  There's plenty of variety and diversity of great entertainment.  Streets Alive! performances have included music, dance, art, magic, theatre, join-in fitness classes and sports demonstrations, and more throughout the festival – something for everyone! 
WellPower Movement Activity
The Streets Alive! festival route is a part of the WellPower Movement. Participants can walk, bike, run, or skate their way through the route as a WellPower activity. Sponsored by the Nebraska Sports Council, the WellPower Movement with its simple activity-tracker, group activity challenges, mental health components and social media interaction, provides all the tools to help you live a more active life.
---