Exhibiting at Streets Alive! Outdoors
Info for Resource Exhibitors and Healthy Food Vendors
Exhibiting at the Streets Alive! provides businesses or organizations with an opportunity to be a visible part of a free event open to the entire community of Lincoln.  Over the years, our attendance has grown to an average of 4,000 including more than 100 exhibitors and entertainers. The 2019 Streets Alive! outdoor festival was hosted by the South Salt Creek/Cooper Park neighborhood, just south of downtown.   Our 2020 Streets Alive! event moved online to protect community health. Barring community health and weather concerns, the 2021 Streets Alive! festival will be an outdoor event, scheduled for Sunday, September 26, from 1:00 - 4:30 PM. The South Salt Creek/Cooper Park neighborhood will again be our hosts.  Have questions?  Contact us.
Health Precautions
We want everyone to enjoy their Streets Alive! experience and feel safe.  Outdoor venues, especially those where visitors can maintain distance from others outside their household, are safer ways to gather.  Due to the current state of the pandemic in Lancaster County, all exhibitors, volunteers, fitness instructors, entertainers and performers are required to wear a mask when interacting with participants when 3-6 feet of distance cannot be maintained. The four information booths, along with the fitness, performance and entertainment areas will be "Mask Zones". These are the areas where it will be difficult for people to maintain 3-6 feet of distance so all visitors to the information booths will be required to wear a mask in these areas as well. Masks will be available at all of these sites thanks to the Lincoln-Lancaster County Health Department.
Download a map with exhibitor locations.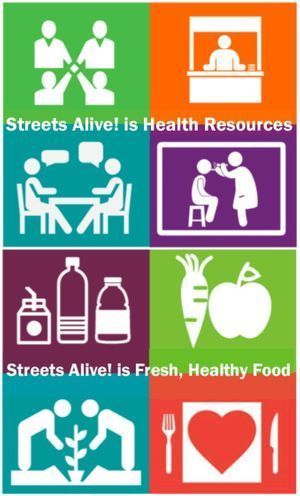 Resource Exhibitor, Farmer's Market/Food Court Vendor  
Whether you are providing resources (health screenings, education, information), or providing produce or healthy food at the food court, you can reach thousands of people over the course of one afternoon.   
Promote Yourself
Bring people to you and let people know you will be at the Streets Alive! We'll have downloadable promo materials available for the 2021 festival closer to the event.
Event Route and Exhibitor Locations
We move the festival to a new location every two years. This year the outdoor event will again be hosted by the South Salt Creek/Cooper Park  neighborhood.  Participants line a nearly 2 mile route to encourage visitors to walk the whole route. Resource exhibitors can choose their location on the route on the application.  Locations on the route are first come, first served. Farmer's markets and food vendors will either be in a designated "food court" or located along the route.  Download a map with exhibitor locations.
Getting to Your Spot, Setting Up
Exhibitors are able to set up ahead of the festival, between 11:00 am and 12:15 pm. During this time, you are able to drive your car closer to your assigned station area to unload for the event. After 12:15 pm, you will not be able to drive on blocked off streets. Volunteers will be available to help you find your location and set up your station. We provide the table and name placard for resource exhibitors. Resource exhibitors may also bring their own pop-up booths or overhead umbrellas. Please bring chairs and an electrical source if needed.  
Where to Park After Setting Up
The streets following the route will be closed to traffic and parking the day of the event. In order to accommodate everyone in the area on the day of the event, there will be a variety of parking lots available in the vicinity of the route. Parking locations and closed streets are listed on our FAQ page.
Staffing 
Festival visitors will come and go throughout the day, so plan to staff for the entire event. Otherwise, you'll miss a great promotion and outreach opportunity! 

Rules
BE SAFE - Streets are closed but participants should watch for vehicles, children, pets and other normal hazards. Streets Alive! is not held liable for participants' failure to be watchful. No weapons. No smoking.
BE HEALTH CONSCIOUS - Wear a mask if you cannot maintain 6' of distance.
BE RESPONSIBLE - Take care on the streets and sidewalks; watch for others. Dispose of litter and pet waste in responsible ways.
BE RESPECTFUL - Use family-friendly language; be considerate of others.
BE GREEN - Please recycle in the bins along the route.
Other questions? Email us.