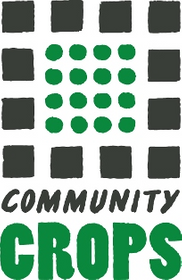 Community Crops
Growing Local Food, Healthier Families
 
Community Crops provides education, advocacy, and experiences to grow local food. Crops help people build household food security (ensuring they have consistent, adequate access to healthy, nutritious, and culturally appropriate foods to live healthy and productive lives) and community food security (ensuring a greater supply of food grown locally creating more resilience against disruptions in the food supply chain).
For the 2022 growing season, Community Crops will operate twelve community and special project gardens, two farm sites, an urban agriculture plot, and two production greenhouses. The growing season starts early with the opening of their greenhouses in February. Greenhouses allow gardeners and farmers to extend the Nebraska growing season to maximize their productivity. The garden and farm sites follow soon after, opening in March and April.  Families can apply for garden plots through their website or by contacting the office to request a paper copy. Gardens are typically fully before the end of March but a the waiting list is available to help Community Crops continue to stay in touch with families in need of growing space.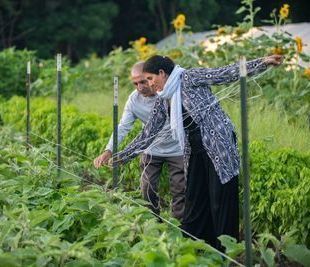 Gardeners receive a low-cost rental plot, free water, seeds, plants, access to tools, and technical support from the Crops staff throughout the season. Gardening is a great way to access more healthy food, get exercise, and connect with your neighbors.
The work Community Crops does alongside local farmers helps to grow the availability of healthy and culturally important foods in our community. Crops provides technical support and market access to beginning, refugee, and immigrant farmers while ensuring produce is affordable to all.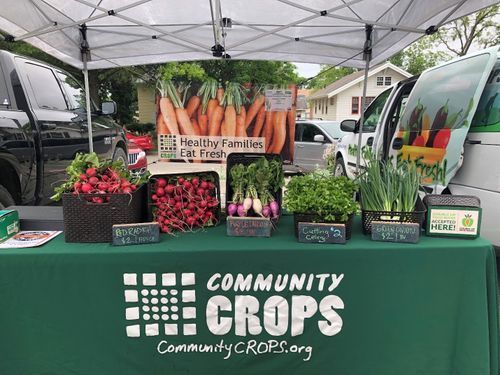 This year the Union Bank & Trust Veggie Van will be at the Sunday Farmers Market at College View throughout the season. Crops will support multilingual market tours and participate in programs like SNAP and Double Up Food Bucks to help families stretch their food dollars further. An exciting addition this year will a new SNAP-focused CSA. Featuring produce from farmers at Community Crops sites, this Community Supported Agriculture (CSA) program allows families to purchase a share, investing in local farmers and getting a tasty, fresh box of produce weekly throughout the growing season. A portion of the shares will be for market rate customers with the majority reserved for families using public assistance, allowing a week-to-week payment model that allows families to use public benefits when helpful.
You can support Community Crops in a variety of ways:
Support the annual Crops

Plant Sale

and get veggie, herb, and pollinator plants for your garden this season.

Consider becoming a CSA customer this season or shop at our farmers market booth.

Support Community Crops through

donation

to help maintain and grow all of these amazing programs and more. 
Community Crops accomplishes their work with the support of many amazing volunteers. If you are interested in getting involved, email Crops or call 402-474-9802.