April 2015 - Lincoln Parks and Recreation
FUNdamental Healthy Me" Summer Day Camp
Lincoln Parks and Recreation programs for children and youth are intentionally focused on increasing opportunities for physical activity, providing education about good nutrition and improving access to healthy food.  "FUNdamental Healthy Me" Summer Day Camp is  a perfect setting for learning the healthy balance of staying active while making smart food choices to help our bodies grow and develop in healthy ways through fun recreation activities.  Activities include physical education, active play, archery, tennis, swimming, yoga, and gardening (in addition to other camp standards such as arts and crafts, music, reading, and more).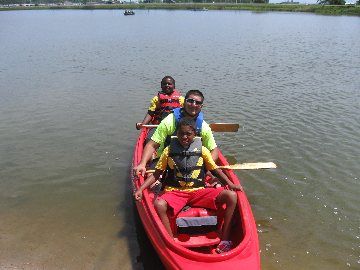 Staying Fit Over the Summer
The results are promising.  Almost 750 young people participated in Lincoln Parks and Recreation "FUNdamental Healthy Me" Summer Day Camps at eight locations last summer.  Campers were tested on aerobic fitness, muscular strength and endurance, and flexibility.  About two-thirds of campers who completed each test improved, and campers who had high attendance generally showed greater improvement than those who had low attendance.  This is great news among reports that fitness gains made during the school year may be lost during the summer.
Crunch and Lunch Summer Drop In Program
Parks and Recreation will also offer "Crunch and Lunch" Monday-Friday from 11 a.m. to 12:30 p.m. throughout the summer.  Youth can drop in for a free hour of active games, physical fitness activities, and a healthy lunch provided by the Lincoln-Lancaster County Health Department through the Summer Food Service Program.  Locations include UPCO, University Place, and Peter Pan Parks.
For more information about Lincoln Parks and Recreation programs, visit parks.lincoln.ne.gov