October 2014 - Lincoln Public Schools Wellness Program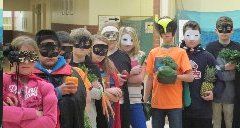 The Future's So Bright ...
Can you feel the power? Lincoln Public Schools is lighting up like Clark W. Griswold's house for the holidays. Wellness growth is in the air and our district focus for wellness efforts carries the theme of power throughout 2014-15. This might have something to do with how much people (especially kids) like to dress up like super heroes.  I digress…
Quarter one began with a Power of Fun Activity Variety Challenge. Especially with a focus on helping each student find ways they enjoy being active, emphasizing diversity within movement is key to success.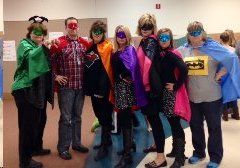 As we fall into quarter two, our focus turns to the Power of Connection. This social/emotional wellness challenge is focusing on the positive, encouraging students to "plug in" to connecting with others and doing for others. Helping both staff and students find the balance with the lure of technology is a great goal indeed.
The New Year will kick off with a focus on Super Snack Power. The challenge will encourage them to right size their snack depending on the activities they are doing afterschool, helping students recognize the link between how much they move and how much fuel they need. It will also help students recognize better food choices for snacks.
The final challenge is Building Powerful Bed and Breakfast Habits and will give a nod to the popular game Minecraft, with a focus on mind craft. Challenge efforts emphasizing sleep and breakfast help support good outcomes, both during this final evaluation heavy quarter and throughout the school year.
School based practices continue to be integrating approaches that support health step by step. Looking back only four years ago when my wellness facilitator position began, the strides we have made within LPS are both significant and meaningful. The inclusion of my role into the LPS budget starting this year is only one example of the steps being taken to embrace the district approach to whole child education.
Much like a garden, seeds have been planted and each year as we have tended to the process, we are reaping an amazing bounty of engagement and positive health outcomes, only one of which is the significant trend in obesity rate improvement. There are still many areas in which we need to grow, though as wellness continues to gain strength, I continue to be thankful for the many partners supporting our success. From administration, to our priceless wellness champions and committees in each of our 56 schools, nutrition services staff, health office nurses, PE and health leaders, teachers and more, partnerships both inside and outside of LPS are the reason we are seeing this success.
Congratulations to the entire Lincoln area community for your commitment to helping build a brighter future for students. You might want to get out your shades or dust off your superhero cape.
By Michelle Welch, RD, LMNT, LPS District Wellness Facilitator
Lincoln Public School Wellness Program