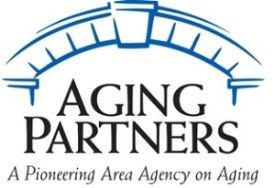 Focus on Health Classes, Caregiver Support
 
Aging Partners' mission is to enhance daily living, expand personal choices and to educate the community in an effort to ensure the independence and full life of the people we serve.  Aging Partners encourages seniors to take measures that decrease risk, promote optimum health and encourage independent living. Download a information sheet about Aging Partners' services.
Aging Partners works to keep seniors healthy and independent.  With the temporary closure of the Fitness Center during the COVID-19 pandemic, we have been connecting with clients via ZOOM to provide fitness classes. Preregistration is required for all ZOOM classes by calling 402-441-7575. Download an upcoming ZOOM fitness class schedule here.   Seniors can also find a variety of Aging Partners exercise videos for every strength and ability level at this link.
Join Aging Partners for this fun Git Up Challenge.
Aging Partners Caregiver Support Group Meetings Available Via ZOOM
Caregivers of family members are urged to attend a series of Aging Partners Caregiver Support Group meetings via ZOOM.  The meetings are held every Monday from 1 to 2 p.m. and preregistration is required by calling 402-441-7575.
The support groups are designed to provide hope, information and a safe environment to share concerns with an emphasis on who takes care of the caregiver.  The meetings are open to individuals of any age who provide care for an adult age 60 and over or caregivers who are age 60 and over.   
The meetings are led by Sandy Lutz, a licensed independent Mental Health Practitioner and Aging Partners program supervisor.  Contributions are accepted but not required for this Older American's Act service.  For more information, call 402-441-6590 or email salutz@lincoln.ne.gov.