July 2015 - WorkWell Offering July and August Webinars
WorkWell, a division of the Nebraska Safety Council, provides wellness resources to organizations to help employees achieve optimal well-being. Together the Nebraska Safety Council and WorkWell provide an integrated approach to achieving positive outcomes for employers and employees, working with more than 500 organizations throughout Nebraska.  These members represent a wide range of industries including manufacturing, health care, utilities, agriculture, government, construction, transportation and more.
WorkWell was recently honored as an affiliate member of NIOSH, the National Institute for Occupational Safety and Health, and supports their Total Worker Health™ initiative by working with them to develop support tools, trainings, consultations, and programs.
WorkWell provides many opportunities to their member organizations including monthly and quarterly networking and benchmarking meetings, monthly newsletters, and online resources.  The Nebraska Safety Council and WorkWell also hold an annual safety and wellness conference in Lincoln. This year's conference will take place Oct. 20-21.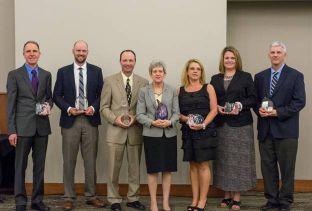 WorkWell is the administrator of the Governor's Wellness Award and provides training and consultation to organizations across Nebraska to prepare for and achieve this prestigious award.  They also hold the Annual Wellness Legacy Awards to recognize individuals who have made healthy lifestyle changes and to recognize individual leaders of wellness.
WorkWell will be offering a free Connections Webinar on July 21 from 11:30 AM - 1:00 PM entitled "Getting the Most out of Your WorkWell Membership" for members and non-members to learn about all that WorkWell has to offer. Through July and August, Workwell will be offering webinar based and on-site worksite wellness trainings including a 100-200 level course called Jumpstart and a 300-400 level course called APEX.  The APEX Wellness Training Webinar Series "Taking Your Wellness Program to the Next Level" will be offered on Thursdays, July 23rd, & 30th and August 6th & 13th, 12:00 - 1:30 PM.  For more information on these and other wellness opportunities visit www.nesafetycouncil.org or call 402-483-2511.