FUN WITH LINCOLN PARKS & RECREATION
There are many opportunities to get out, be active and have fun during summer in Lincoln. Lincoln residents of all ages can enjoy Lincoln Parks and Recreation's 132 parks, 134 miles of trails, nine public pools, six recreation centers, 5 city golf courses, Pioneers Park Nature Center, Woods Tennis Center and Team Sports programs. We encourage you to include Parks and Recreation activities on your summer "To Do" list! Here are a few things to start your list.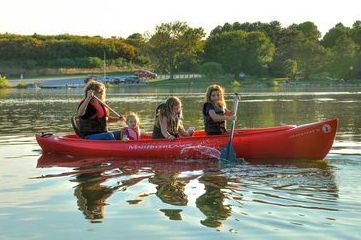 It's a Party and EVERYONE is invited!
Enjoy the sunset while canoeing on Holmes Lake the last Wednesday of the month from 5:30-7:30.

Get moving at one of the many free Fitness classes offered at Jane Snyder Trail Center as part of the Move More Lincoln Wellness Series.  New to the lineup this year is Mixed Fit!

Get fit at one of our many free Water Fitness Classes offered at area swimming pools.

Grab a blanket and come enjoy a free family friendly movies in the Park.

Enjoy summer fun at Oak Lake on July 3rd at Oak Lake for Uncle Sam Jam, the City of Lincoln's Independence Day celebration.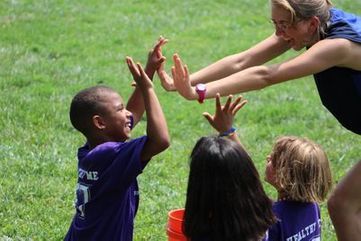 Come out and PLAY all summer long with Summer Day Camps
Summer Day Camps are all about creating memories, exploring new adventures, making friends, and celebrating being a kid. Camps are offered Weekdays 7 AM to 6 PM at 7 locations across town.

Our camps are for kids who have completed K-7 grade and who want to PLAY all summer long. Our camps have a wide curriculum of activities to keep campers moving and more importantly having fun with their friends. Every week campers will experience field trips, swimming, arts & crafts, active games, and so much more.

Spend the summer immersed in nature, hiking, exploring and going on adventures with your friends at Pioneers Park Nature Camps for ages 3-17.
Get WILD with the City Nature Challenge!
Mark your calendars for a wild good time during our annual spring festival, Wild Adventures, on Saturday April 4 from 1-4PM at the Pioneers Park Nature Center. This event provides a family friendly environment to learn about nature up-close. Games, crafts, special presentation, live animals, educational booths, and more will be included.

The Pioneers Park Nature Center in partnership with Nebraska Game and Parks invite you to join us in the 2020 City Nature Challenge, April 24-27, where cities around the world will be competing to see who can make the most observations of nature, find the most species, and engage the most people.

Spend the summer immersed in nature, hiking, exploring and going on adventures with your friends at Pioneers Park Nature Camps for ages 3-17.
Play a round on a city golf course!
Lincoln Parks and Recreation manages the 9-hole Jim Ager Golf Course and four municipal 18-hole golf courses: Highlands, Holmes, Mahoney, and Pioneers. Each with their own identity, the family of courses are a great opportunity to play

a round with a spouse, best friend, or coworker.