NeighborWorks Brings
Neighbors Together
for Good Food and Good Health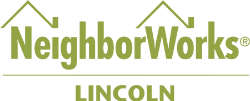 Learn & Feast on 11th Street
Once a year, NeighborWorks Lincoln takes a group of residents to NeighborWorks America's Community Leadership Institute to meet people from across the country doing innovative work in their communities.  Attendees learn about Best Practices in community engagement and receive a grant to produce a local project. This year, the Lincoln group, made up of representatives from Community Action Program, Community Crops, Nebraska Extension, Lincoln Planning Department, and Civic Nebraska, chose to focus on food security. The group decided to create an event where neighbors could share a meal, have a discussion about culture and food, and learn about available resources. 
The result was "Learn and Feast on 11th Street", hosted by the Lincoln team on May 18th.  About 100 local residents and families gathered to share a community meal provided by Pepe's and Everett School's new immigrant families and talk about culture and food.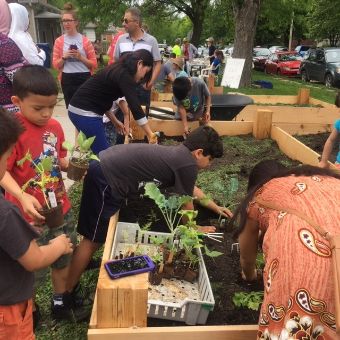 After the meal, families participated in building and planting garden beds, took part in cooking demonstrations, and picked up fresh produce/plants from Community Crops Veggie Van. Six families signed up to grow produce at a new garden site at 14th & D, a collaboration between NeighborWorks Lincoln and Community Crop.  Attendees also had an opportunity to view an art project at South of Downtown and participate in Read Aloud with Nancy and Mary. The event was a success, prompting several families to ask, "Can we do this every week?"  and others to comment that it made them feel good about being in the community.
Village Square Celebration in Malone/Hawley Neighborhood
NeighborWorks Lincoln and Assurity Life Insurance invite the public to join in the celebration of neighborhood revitalization on Friday, June 7th from 4-6:30 PM at 23rd & P.  The celebration will recognize those who made Antelope Creek Village, Antelope Square and the Community Build house possible.  Come, celebrate, and view the redevelopments before heading out for First Friday Art Walk.  Enjoy networking with the community, playing yard games, and tasty food from Mary Ellen's BBQ and Gelato To Go. For more info, call 402-477-7181.
NeighborWorks Supports Healthy
NeighborWorks Lincoln is a non-profit organization working to revitalize neighborhoods and support home ownership, keeping Lincoln a safe and prosperous community. The 501 (c) (3) organization, located at 2530 Q St., focuses on real estate development, community building, and Home Buyer Education/Assistance for first time home owners.  Learn more at nwlincoln.org