Malone Commits to Good Health, and New Programs
Since 1955, Malone has served as a cornerstone for educational, cultural and advocacy programs for all to create unity and prosperity in Lincoln while honoring our African American heritage. We believe in leading with integrity, putting people first, having fun and are excited by change.
Early Achiever's Academy is a program in partnership with University of Nebraska's Ruth Staple Lab in Lincoln, providing high-quality early education for low income families at Malone.  The academy if now open for enrollment. UNL provides teachers and oversees the program.  For more information email Eric Unrau at this link.   
Out-of-School and Summer Programming continues our commitment to helping children achieve their greatest potential.  Our CATCH program teaches kids 5 – 13 years the basic building blocks of good nutrition and overall physical health.  Programming also includes robotics, chemistry, reading, dancing, singing and homework assistance clubs. We saw a record enrollment in 2019.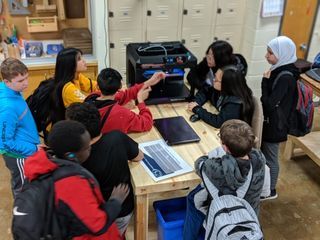 Culler Middle School Community Learning Center (CLC).  As the lead agency for the Culler CLC, we strive to create successful students, thriving families, and stronger neighborhoods. At Culler, we helped to create the Cougar Den, a free and extended learning opportunity that allows students to participate in academic, artistic, recreational, and cultural enrichment clubs. Club highlights include 3-D printing, Robotics, Kiwanis Builders, Educational Talent Search, Roads Rails and Racecars, and Teen Outreach programs.
Lincoln Fresh Produce Truck, partnering with the Food Bank, Malone hosted 16 stops in 2019 serving over 1,200 individuals 10,021 pounds of free, fresh produce! We look forward to serving even more families and community members in 2020.
Malone Breastfeeding Support Groups. Melanin Mommas and Pregnant and Parenting Teens groups are held monthly to educate and empower families on their breastfeeding and parenting journeys. These events are free, offering transportation, participation prizes, healthy snacks and free baby and mom items! For other nonprofits, we can help build a support network for women and families of color within their organizations.  For more information email Dania DeLone at this link.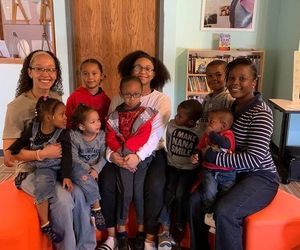 Leadership Academy Programs currently serving over 40 youth, allows students to create multiple business pilots and run the business they've created over the last year. We are proud that the entrepreneurial groups have seen success with 3D printed products, event planning, game day parking, and food delivery - even donating a portion of their profits to local nonprofit organizations.
Malone Mental Health Initiative.  Malone is excited to host Erika Kendrick, an acclaimed author, national speaker, and mental fitness fire starter on May 22, 2020. Erika has presented and guest lectured at colleges and universities, the US Army and US Air Force, middle and high schools, bringing awareness to the importance of mental health and caring for your emotional wellbeing. In addition to this event, the Malone is launching an entire new Yes2Health initiative, stay tuned for details. 
Take Pause Events offer youth, their families and Lincoln Police Officers a chance to create positive interactions by sharing meals, bowling and other activities. These interactions help create trust, respect and understanding between the police and community members. Teens are the focus and activities and events are facilitated to include their families and other community members to spend time having positive and meaningful interactions with law enforcement.
Visit our Facebook pages or call us at (402) 474-1110 for details regarding our health and wellness events, Lincoln Fresh Produce Truck, Juneteenth Celebration, Back to School Jam, Malone Signature event and more!