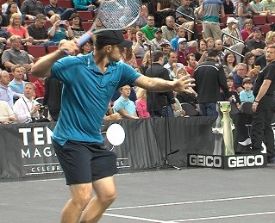 June 2015 - Woods Tennis Center
Takes Fitness Out to the Community
Spring and summer are a very busy time for Wood Tennis Center, especially this year.  In April, Wood Tennis Park Center co-sponsored the Lincoln stop of the Champion's Cup Tour at the Pinnacle Bank Arena.  Tennis greats John McEnroe, Jim Courier, James Blake and Nebraska's own Andy Roddick played to a large appreciative crowd.  The match helped raise money for Woods' capital campaign to repair and replace their "bubbles" (indoor tennis structures).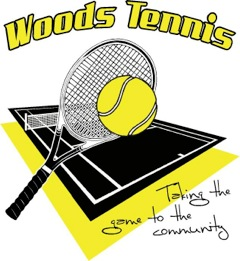 Woods' summer programs are now in full swing. Woods not only offers on-site tennis programs, but reaches out to the community with their "Taking the Game to the Community" program that provides low cost tennis lessons to children at venues across the city that kids can walk or bike to.  Woods Tennis Center provides community programming year round partnering with Community Learning Centers to provide after school programs, Madonna wheelchair and rehabilitation classes, the City of Lincoln Recreation Centers during the summer months as well as other non-profit community center partners including Lighthouse, Malone Center, Salvation Army, People City Mission and the Boys and Girls Club.  The program was selected as one of the public projects to be funded by the Lincoln Electric System "Lincoln Cares" grant.
In July, the Woods Tennis Center, the Friends of Woods Tennis and the Lincoln Parks Foundation are presenting a "Breakfast at Wimbledon Watch Party," a free community event from 8 a.m. - noon, Sunday, July 12 to watch the men's singles finals aired live from Wimbledon, England. An auction at the event (in the Haymarket's Railyard) will raise money towards facilities repair and upgrades.
Most recently, the Nebraska State Athletic Association approved Woods to host the Class B Boys and Girls State tennis championships for the 2015-2016 and 2016-2017 school years.  For more information about events, summer and year round programming at Woods, visit our web site or facebook page or or call us at 402.441.7095