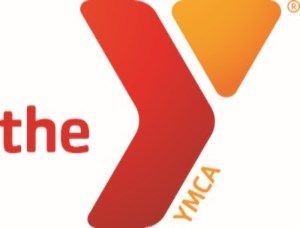 November 2015 - Lincoln YMCA 
November and December Events Promise Fun
The Lincoln YMCA is a nonprofit organization committed to helping children achieve their potential, empowering people of all ages to lead healthier lives, and strengthening the community. The YMCA's goal is for everyone, regardless of income, to be able to participate in life-changing programs, such as swimming lessons, group exercise, Youth Sports, after-school programs and Camp Kitaki.
The Lincoln YMCA in 2014 provided $1,076,632 in financial assistance and services. The Y holds events throughout the year, and 100% of the money raised by the Annual Campaign-Strong Kids supports Lincoln's youth and families in need. (Learn more at www.ymcalincoln.org/give.)
Two upcoming highlights of the Y's efforts are the Turkey Trot and Giving Tree.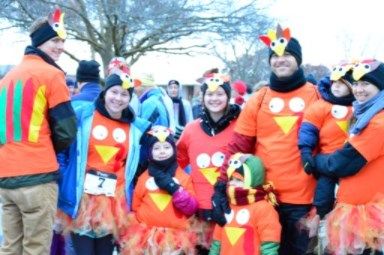 TURKEY TROT: The Turkey Trot at the Cooper Y has become a Thanksgiving Day tradition for many Lincoln families.
It is a fun, family-friendly fundraiser that includes three races: a 5K, 1-Mile Fun Run/Walk and a 3x1-Mile Relay. Prizes are awarded. New for this year is the Turkey Chase — runners who cross the finish line before the Y Turkey will earn a prize for "smoking the turkey." All fees go to the Annual Campaign.
One participant wrote to us: "The YMCA Turkey Trot in 2014 was my first attempt at a 5K with only 45 days of training. I was so excited to be a part of a 'timed' 5K! I came in dead last, but since that race, I have committed to get in better shape. I will be participating in it again this year! I am 63 and slightly overweight — but I RUN! Come dressed as a turkey and support the YMCA!"   
For more information, go to ymcalincoln.org/turkeytrot.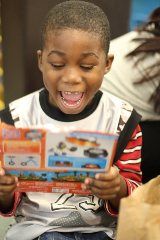 GIVING TREE: Although the holidays are exciting, they can bring stress and disappointment to those who can't afford to buy gifts or serve a holiday dinner. So the Y created the Giving Tree, in which members of the four Lincoln YMCAs pitch in to provide gifts to ALL 400 students at Elliott Elementary School.
At Elliott, 92% of the students qualify for free and reduced lunches. The neighborhood — near 17th-27th and O Streets — is home to a diverse range of families, many of whom work hard just to put food on the table and provide shelter and clothing.
"We want to make sure every child knows that they are loved," said Emmary Grieger, former director of the Community Learning Center at Elliott. "Every child deserves a gift to know that they are special, even if it's just one time a year."
In addition to the gifts, the Y is able to give a few of the students' families boxes of food and clothing items.
"When we walk in with boxes of food, no words have to be said," Grieger said. "There are only hugs and tears."
How you can help:
1. Select an ornament from a Giving Tree at any YMCA facility.
2. Buy an age-appropriate gift for under $20.
3. Return the unwrapped gifts to the Front Desk by the date specified.
For information, go to ymcalincoln.org.