It's Summer! Get Out, Be Active, and Have Fun!
Time spent outdoors not only feels good, it is good for you.  Studies show that regularly spending time outdoors relieves anxiety and stress, improves mood, promotes wellbeing, and increases physical health. As little as 20 minutes in the outdoors can be beneficial. The biggest drop in stress hormone occurs within the first 20 to 30 minutes of being outside in nature. We hope you and your family will make regular time at Lincoln's parks, trails, pools, and golf courses part of your health lifestyle!
PLAY IN THE PARKS
Explore, experience, and enjoy these FREE activities in the parks for all ages.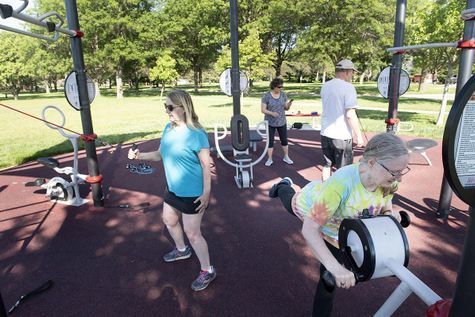 FitLot Outdoor Fitness Park  Exercise at Lincoln's newest outdoor fitness park located in Woods Park at 3131 O Street. This new park provided by FitLot and AARP, offers users a new way to get a workout in while enjoying the outdoors. Use your own body weight on this circuit training facility. Free classes are available throughout the summer and will occur in September and October. Registration required for class. Register with Eventbrite or visit fitlot.org/parks/lincoln.
Adult Water Fitness  Get fit and have fun in the water for free! Group tabata-style for all levels of wellness. Classes are held at 5 pools: Ballard, Belmont, Eden, Irvingdale, and Woods. Classes vary by location based on instructor. Ages 15+
Canoeing at Holmes Lake  Enjoy the evening while canoeing on Holmes Lake the last Wednesday of month from 5:30-7:30 through August. Pre-registration is required at parks.lincoln.ne.gov ("Register for a Class").
Movement Classes
Zumba, Yoga, and Barre at "F" Street Community Center

Yoga on the Prairie at Pioneers Park Nature Center

Parks Lincoln and Yoga (PLAY) at Antelope Park Bandshell
Follow us for program updates and announcements on Facebook at Twitter @partyintheparks.  Learn more at lincoln.ne.gov/party.
Outdoor Pickleball  Get outside and play a game with friends at:
Ballard, 66th & Kearney St

Eden, 46th & Antelope Creek Road

Henry, 44th & Prescott Ave

Peterson, 4400 Southwood Dr

UPCO, 40th & Adams
When summer's over and you're hooked on the game, indoor courts are available at Air Park and Calvert Recreation Centers.
FootGolf  Not a golfer? How about footgolf, a game for all abilities! Experience the fun of FootGolf, a popular sport that is the combination of soccer and golf, played at Jim Ager Golf Course. The game is played with a regulation #5 soccer ball on golf holes with a 21-inch diameter cup. The rules largely correspond to the rules of golf. Footgolf can be played right along side a regular golfer, and it is fun for any age.
134 Miles of Happy Trails  Each year about a million "treks" happen on Lincoln's trails. With over 134 miles of hard surface and crushed rock trails, you can get just about anywhere you want to go using both on and off street routes. There are also several miles of hiker/biker trails within our parks making our system top notch. Whether you ride, run, jump, or skip, using trails are the perfect way to stay fit and save gas!
Pioneers Park Nature Center  Come walk the trails through our prairie, find a magic spot in the woods, meet our exhibit animals, listen to the birds in our bird garden, relax on one of our benches, treat yourself to the smells of our herb garden, dig in the natural play area, or learn from our exhibits.