March is National Nutrition Month

National Nutrition Month® was created by the Academy of Nutrition and Dietetics to encourage everyone to learn about making good food choices and developing healthy eating and physical activity habits.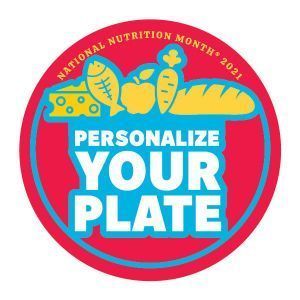 This year's theme is "Personalize Your Plate."  As individuals with different body shapes and tastes, a one-size-fits-all approach to nutrition doesn't work.  A registered dietitian (RD) can help tailor a healthy eating plan that meets your specific needs.  Did you know that the Lincoln-Lancaster County Health Department WIC program has 9 registered dietitians?  At WIC, an RD can help you learn about cooking skills, meal prep and planning, and how to eat a diet that includes a variety of nutritious foods.  Want to help your kids learn about and healthy eating?  WIC helps with that too!  Plus, individuals who are eligible for WIC receive healthy foods that are rich in important nutrients for growing kids, developing babies, and breastfeeding women. 
The Lincoln-Lancaster County Health Department's Women, Infants and Children (WIC) program is a supplemental nutrition program for pregnant, postpartum, and breastfeeding women, infants, and children up to age 5.  WIC is the nation's most successful and cost-effective public health nutrition program.  Studies have shown that women who receive WIC start prenatal care earlier, have fewer premature births, are more likely to breastfeed, and have improved diets, which leads to healthier weight gain during pregnancy.  Children who receive WIC have improved diets, decreased incidences of iron-deficiency anemia, more regular medical care, and improved intellectual development that gets them ready for school.  LLCHD WIC is strengthening families by providing 4 core services: healthy foods, nutrition education, breastfeeding support, and referrals to health and social services. 
LLCHD WIC Locations and Hours:
Lincoln Lancaster County Health Department, 3131 "0" Street, (402) 441-6200
M, T, W, F—8:00 to 4:30pm         TH—8:00 to 6:30pm
Cornhusker Office, 27th and Cornhusker HWY (near Super-Saver), (402) 441-4204  OR (402) 441-6200
M—Closed        T, TH, F—8:00 to 4:30pm W—8:00 to 6:30pm