MilkWorks Celebrates 20th Anniversary
MilkWorks was founded in 2001 by a group of women who wanted all families to have access to affordable and accurate breastfeeding support. While breastfeeding is something women have done since the beginning of time, it is also a skill that must be learned and practiced. That is why we exist. 
We pride ourselves on knowledgeable, compassionate staff who develop trusting relationships with the clients they serve. Our goal is to provide each family with the care they need to meet their personal feeding goals. We know that breastfeeding is seldom perfect, and we understand that each family has unique breastfeeding concerns.  The original MilkWorks is located in the Trade Center in Lincoln, Nebraska. In 2015, due to a growing need, we expanded and opened a location in Omaha, Nebraska, in Rockbrook Village. We currently have outreach programs in several smaller communities in Nebraska which we are hoping to expand on in 2021.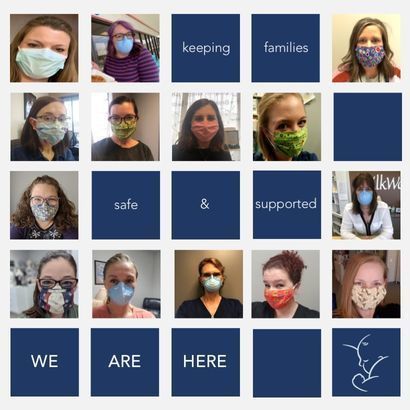 When MilkWorks opened its doors 20 years ago, the breastfeeding rates in this country were at some of the lowest in history. Thanks to the Affordable Care Act, and the inclusion of breastfeeding support and breast pumps as part of Women's Preventive Services, we have been able to drastically change those rates. There is still much work to be done but MilkWorks is dedicated to continuing our advocacy by finding new ways we can reach more families.
In 2020, MilkWorks introduced telehealth lactation care, as well as free shipping on breast pumps and other breastfeeding supplies, to continue to serve our growing and changing population in the midst of the COVID-19 pandemic. We also launched a Breastfeeding Essentials Program, to ensure that all families have access to the breastfeeding and pumping accessories they need to successfully continue on their feeding journey.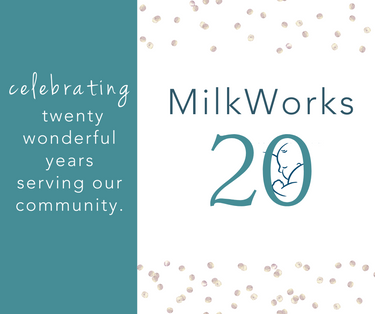 This year we will be celebrating our 20th birthday. It's hard to believe that two decades, or a generation of babies, have passed through our doors. Our organization may look a little different today but our core mission is the same – creating a healthier community by helping mothers breastfeed their babies.
Our 20th birthday is an incredible milestone for our community here in Nebraska, but it is also important for our surrounding communities in Kansas, Iowa, and South Dakota - all of which depend on MilkWorks for breastfeeding support. We pride ourselves on being a safe haven that families can turn to for guidance and affordable breastfeeding education and support, from a reliable source, and we do not take that for granted. Ever.
As we look toward the future, MilkWorks is gearing up to provide more support and services than ever before to all families in Lincoln, Omaha, and the surrounding communities. 
Stop by our Lincoln or Omaha location, Monday - Saturday from 9 AM – 4 PM and see what we are all about. Want to know what we are up to in 2021? Follow the work MilkWorks does on Facebook and by signing up for their newsletter.