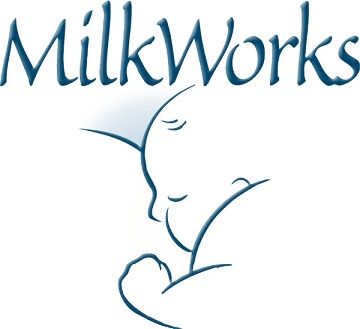 MilkWorks is a non-profit, community breastfeeding center in Lincoln, Nebraska. Under the medical direction of Kathy Leeper, MD, the center provides a wide range of education, support and clinical services to help mothers breastfeed their babies. No mother is denied services based upon ability to pay.
Call to Action to Support Breastfeeding: The report establishes the major impact that infant nutrition has upon the health status of our country and calls upon health care providers, employers, and the community-at-large to provide the support necessary for mothers to breastfeed their babies. While 88% of Nebraska mothers breastfeed in the hospital, only 25% of Nebraska babies are exclusively breastfed until the recommended six months of age. This is compared to over 50% of the 2,000 mothers who receive individual consultations at MilkWorks exclusively breastfeed for over six months.
A 2007 meta analysis by the US Agency for Healthcare Research and Quality (April 2007) reviewed 9,000 studies related to the impact of what infants are fed. The analysis reports that breastfeeding results in:
a 4 times lower risk of SIDS,

a decreased risk of type I and type II diabetes, asthma, diarrhea, eczema, ear infections, childhood leukemia, hospitalizations for lower respiratory infections, necrotizing enterocolitis (in pre term infants), and,

a lifetime protection against obesity.
MilkWorks is located at 5930 South 58th St. (in the Trade Center). The center is open 6 days a week. Anyone may call with a basic breastfeeding question, or check out the Breastfeeding Information Center. Support services include classes, weekly moms' groups, drop in weight checks and personal use or hospital grade pump rentals. Clinical consultations with a board certified lactation consultant or Dr. Leeper, a breastfeeding medicine specialist, are available by appointment.
For more information, call 402 423-6402, visit the MilkWorks website or stop by 5930 South 58th St. (in the Trade Center). Hours are: Monday through Saturday 9 am – 5 pm and until 8 pm on Tuesdays.