Partners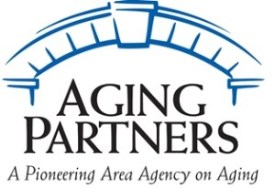 Aging Partners plans, coordinates and advocates for older people in our eight county area.  Our mission is to enhance daily living, expand personal choices and educate the community in an effort to ensure the independence and full life of the people we serve.
When you have questions about aging ... we have answers.
Click Here for a printable flyer with more information about the services Aging Partners offers.  Follow us on Facebook - www.facebook.com/AgingPartners.
Aging Partners is featured in a three part series on the October 2015 Shape of the City.
Segment 1: Health & fitness - staying healthy as you age.   
Segment 2: The impact grandparents have on the health of their grandchildren
Segment 3: Finding ways for seniors to stay active and form a bond with grandchildren.